Search our Archives for press releases from other collectibles:
Press Release - April 5, 2011
American icon John Wayne's costumes, awards and documents in first ever public auction this October at Heritage Auctions
Memorabilia from John Wayne's personal and professional archives now being cataloged by Heritage for Los Angeles public auction, exhibitions in Dallas and New York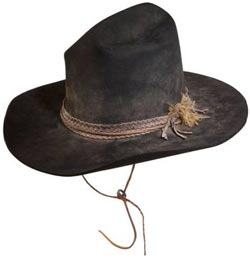 Dallas, TX – The family of legendary actor John Wayne will be offering an expansive collection of never-before-released personal and professional memorabilia from the movie star's personal archives for public auction this fall. Among the items in the collection are one of the iconic black eye-patches worn by John Wayne in his 1969 Academy Award® winning role in True Grit, the cowboy hat he wore in the film's 1975 sequel, Rooster Cogburn, and more than 400 other costumes, scripts, personal documents and awards that will be available to fans for the first time.
John Wayne Enterprises (JohnWayne.com) has appointed Heritage Auctions (HA.com), the world's third largest auction house, to conduct the first ever single-owner auction from John Wayne's personal archive. Public exhibitions of the John Wayne collection will be held in Dallas, Sept. 16-18, 2011, and in New York, Sept. 23-25, 2011. The auction will take place at the Hyatt Regency Century Plaza Hotel in Los Angeles and online, Oct. 3-6, 2011.
"My father's fans were very important to him. He was open and accessible to them, and making these items accessible to the public is something that feels right," said Ethan Wayne, President of John Wayne Enterprises. "Museums have large collections of my father's personal property, and our family has had a chance to select and keep items sentimental to us. There is no need to keep this memorabilia locked away when it can be enjoyed by his fans."
"The John Wayne collection is a time capsule of classic Hollywood and U.S. history that has remained carefully preserved by his family since John Wayne died 32 years ago in 1979," added Greg Rohan, President of Heritage Auctions. "We anticipate attracting a wide range of people to the auction, from serious collectors and loyal fans to movie fans and the simply curious."
Among the additional items in the auction are John Wayne's Golden Globe award for Best Actor for his role in True Grit; costumes from such movies as Sands of Iwo Jima and The Green Berets; and more than 50 movie scripts from such celebrated John Wayne films as True Grit, The Green Berets, Stagecoach, Rio Lobo, Hellfighters and The Sons of Katie Elder. Many of the scripts are annotated with John Wayne's handwritten notes.
Personal items include John Wayne's cowboy boots and cowboy hats; saddle and stand; personal correspondence with U.S. Presidents and Hollywood's biggest stars of the era; correspondence and awards related to his affiliation with the University of Southern California; John Wayne's driver's license, passport and American Express card.
Pre-sale estimates range from $100 to $50,000 each depending on the item. Items offered in the auction will be accompanied by a certificate of authenticity from the Wayne family and Heritage Auctions.
For more information on the auction and exhibitions, contact Heritage Auctions at (800) 872-6467 or visit HA.com.
About John Wayne Enterprises, LLC:
John Wayne Enterprises is the sole and exclusive grantee from John Wayne during his lifetime of all commercial merchandising and allied rights relating to the use of his Name, Image, Likeness, Signature, and/or Voice. John Wayne Enterprises' primary mission is to preserve and protect the Name, Likeness and Image of John Wayne by associating the John Wayne brand with quality and timeless products and experiences that embody the spirit of John Wayne and give back to the community. To further its mission, John Wayne Enterprises enters into selective licensing or partnership agreements in Advertising and Merchandising; Cancer Research, Treatment and Education; and Public Facilities, Institutions and Agencies. John Wayne Enterprises is a limited liability corporation owned by children and grandchildren of John Wayne and is managed by Ethan Wayne. For more information, visit JohnWayne.com.
Heritage membership
VIEW BENEFITS
Bid online
Reduced auction commissions when you resell your
winnings
Consign now
Cash Advances
More Bidders
Trusted Experts
Over 200,000 Satisfied Consignors Since 1976
Learn about consigning with us
Heritage helped us feel we served the memory of our uncle with respect for his life's work and Heritage reflected that respect. You make a great team and gave us all a most memorable experience. We hope to work with you again some time in the future.
View More Testimonials
HA.com receives more traffic than any other auction house website. (Source: Similarweb.com)