December 13th Music & Entertainment Auction Highlights
An original copy of 1964's Meet the Beatles, signed by all the members of the Fab Four, is expected to bring $75,000+ when it comes to auction on Dec. 13 as the centerpiece of Heritage Auctions' Music & Entertainment Signature Auction.
"An original pressing of this classic album is cool enough in-and-of itself, given that it introduced so many millions to the timeless music of The Beatles," said Garry Shrum, Consignment Director of Music & Entertainment Auctions at Heritage. "Add the autographs of all four members of the band and you have one of the great Beatles collectibles of all time."
The album was given to Dr. Jules Gordon, the "house doctor" of New York's Plaza Hotel in February 1964 by none other than George Harrison himself. The quiet Beatle had been treated by Dr. Gordon and, in appreciation, George gave the good doctor this signed album. The doctor immediately gave his son, Jeffrey, this treasure, where it's remained until now.
In terms of the Hollywood hierarchy of greatness, there is no one that looms larger than Marilyn Monroe, and this auction boasts an incredible group of 1951-1955 legal documents signed six times by Monroe, expected to bring $30,000+.
"This is an incredible grouping of Monroe signatures, mostly relating to her employment at 20th Century Fox, the actress' professional home for her entire career," said Margaret Barrett, Director of Music & Entertainment at Heritage. "Also included is other legal paperwork relating to Monroe's radio appearances and two films she refused to appear in at all — Pink Tights and How to Be Very, Very Popular — resulting in her suspension from the studio and her move to New York City where she started her own production company."
Fast on the heels of Heritage Auctions' wildly successful auction of The Personal Property of John Wayne, a smart consignor brought forth a great relic in terms of Wayne memorabilia in the form of a Wayne screen-worn jacket from United Artists' 1960 "The Alamo," a film in which he played Colonel Davy Crockett, and which was a great labor of love for the beloved leading man. It is expected to bring $20,000+.
Elvis and Priscilla Presley Twice-Signed Property Settlement Documents from 1972, part of the sad end of what initially began as a fairy tale romance in the 1960s and ended in divorce in 1973 — after almost six-and-a-half years of marriage, the last 18 months of which were spent in separation — is expected to bring $15,000+.
Since her passing earlier in 2011, Elizabeth Taylor memorabilia has been at a premium, and a wig that Taylor wore in the title role of "Cleopatra" in 1963, made of authentic dark brown human hair by famed international wigmaker to the stars, Stanley Hall, is expected to further stir interest in the star. It carries a pre-auction estimate of $11,000+.
A Grateful Dead "Jerry Angel" Stanley Mouse original painting, done by the famous psychedelic artist in 1995 after he awoke from a dream the night after Jerry Garcia passed away, is estimated at $12,000+. Mouse produced several versions of this image, including this loving oil on canvas, estimated at $12,000+.
For lovers of classic television sit-coms, an intriguing and whimsical piece related to "The Munsters" is sure to stir nostalgia. A 1964 Schwinn Sting-Ray Chain-Link bicycle customized for Butch "Eddie Munster" Patrick by George Barris (famous "King of the Kustomizers" who created many well-known cars for campy TV series and movies), Skip Barrett and Von Dutch (infamous pinstriper, mechanic, and metal fabricator) is expected to bring $10,000+.
"Though it was never used on an episode of 'The Munsters,' Patrick did ride it in the Hollywood Santa Parade — now called the Hollywood Christmas Parade," said Barrett, "and the lot includes relevant paperwork and an image of Patrick, as an child in his full 'Munster' costume, sitting on this bike."
This bicycle was originally sold in the Rick Cole Auctions auction titled Pacific Auto Rental and Movieworld, Sale 4400, August 18, 1985, Lot P-E. Before this auction, the bike was on display throughout the 1970s at the now-defunct but beloved 'Movieworld: Cars of the Stars' museum in Buena Park, CA, where lowbrow artists like Ed 'Big Daddy' Roth and Von Dutch hung out and hand-painted funky signs for the museum's car displays.
More standouts in the auction include Stevie Ray Vaughan Handwritten Original Lyrics to an unpublished and unrecorded song (estimate: $8,000+), a Michael Jackson inscribed copy of My Autobiography by Charles Chaplin from 1980 (estimate: $8,000+) and a three-page Harry Houdini Handwritten Letter from 1923 (estimate: $6,000+).
ABC to air The Great Big American Auction with Ty Pennington & Heritage, Thursday, Dec. 8
ABC has announced that it will air The Great Big American Auction, in a very special television first made-for-TV auction event, at 10 p.m. (ET) on Thursday, Dec. 8. The show will star Ty Pennington of Extreme Makeover: Home Edition, one of America's leading reality TV personalities, and feature exclusively Heritage Auctions' experts, auction services and staff.
The special was produced by Cineflix (Auction) Inc. for ABC. Executive Producers are Lisa Levenson, Ty Pennington, Joe Houlihan and Simon Lloyd.
Ty Pennington has been transforming people's homes and lives for several years now as the host of ABC's Extreme Makeover: Home Edition and has now found an exciting new way to change lives by turning their memorabilia and assorted hidden finds into treasures worth life-changing amounts of money.
After scouring flea markets, cellars, attics and yard sales to find one-of-a-kind items whose owners have no idea of their real value, Pennington, with a team of experts from Heritage Auctions, tags the best items and brings them to The Queen Mary oceanliner in Long Beach, CA for The Great Big American Auction. The exceptional collectibles range from first edition classic comic books to rare American currency to an early 20th century baseball icon's checkbook, and much more in-between, all chosen for their rarity, value and the uniqueness of the consignor's story.
"It's a great thrill to be part of this major network, prime time show, to work with Cineflex and ABC and a star the magnitude and class of Ty Pennington," said Greg Rohan, President of Heritage Auctions. "We went to great lengths with our staff and experts to make sure that all these unique items have great stories and that they live up to Heritage's exacting consignment standards. We hope that everyone will enjoy the show as much as we enjoyed being a part of it."
Objects originally bought for mere dollars, or literally plucked right out the trash will go for thousands of dollars as their lucky owners' lives are changed for the better.
The Great Big American Auction will air on Thursday, Dec. 8 AT 10 P.M. (ET) on The ABC Television Network.
Heritage Auctions is always seeking "consignments with a story" for possible future TV projects. If you think you might have a unique item and a unique story, please let us know.
December Vintage Guitar & Musical Instruments Highlights
Our upcoming Vintage Guitar & Musical Instruments auction has items for all musical tastes! The guitar selection is broad for both electrics and acoustics, with numerous Gibson and Fender electric guitars and basses along with a great assortment of Martin and Gibson acoustics.
There are several Pre-CBS Fender guitars including a spectacular clean 1959 Jazzmaster and several late 1950s Les Paul Jr's & Specials in colors from Cherry to TV yellow. We have an awesome array of 60s Gretsch, Ludwig & Slingerland drum kits, including a 1930s Radio King white marine pearl drum kit — a rare highlight! And you'll want to plug your guitar into any of the Fender or Gibson tube amps in our offering, including tweeds, blonds & black faces.
There are over forty steel guitars, lap steels, banjos, mandolins and ukuleles. If a professional saxophone is on your list, this may be our best selection ever of Selmer Mark VI tenor and alto horns. This is definitely an auction inventory worth getting excited about!
Heritage Auctions Buyer's Premiums For Art, Entertainment, Jewelry, Natural History And Books To Change, Effective Jan. 1, 2012
Heritage Auctions has announced that, effective Jan. 1, 2012, the structure of its Buyer's Premium (BP) will be changing in several of its categories. While 13 of the company's 33 categories will remain at 19.5% or 15%, the rest of the Heritage categories will implement the change.
"We make very careful and considered decisions at Heritage, and this was not one that we came to lightly," said Greg Rohan, President of Heritage Auctions. "Heritage is a major player on the world auction stage, and our BP rates will now be competitive with the rest of the world's key auctioneers."
In the categories of American Indian Art, American Art, European Art, Furniture & Decorative Arts, Illustration Art, Jewelry, Lalique & Art Glass, Luxury Accessories, Modern & Contemporary Art, Music & Entertainment, Natural History, Photography, Pre-Columbian, Rare Books, Silver & Vertu, Texas Art, Timepieces, Vintage Guitars and Western Art, buyers will pay a BP of 25% of the hammer price on the first $50,000 of each lot purchased, 20% on the portion between $50,000 to $1,000,000 and 12% on any amount more than $1,000,000.
The minimum BP of $14 per lot will also continue to apply.
There will be no change in Buyer's Premium for US Coins, World Coins, Currency, Wine and Arms & Armor, which remain at 15% or for Americana & Political, Civil War & Militaria, Comics & Comic Art, Historic Manuscripts, Movie Posters, Space Exploration, Vintage Sports Collectibles and Texana auctions, which remain at 19.5%. In Gallery Auctions, meaning those auctions with sealed bids, mostly bulk numismatic material at Heritage, the BP will also remain at 19.5%.
Weekly Guitar & Musical Instrument Internet Auctions Still Jammin'
Our
Weekly Internet Auctions
start and end every Thursday evening at 10 pm CT. These auctions feature roughly 150-250 instruments each week with tons of great deals to be had.
Highlights from this week's auction includes:
D Magazine Explores our Heritage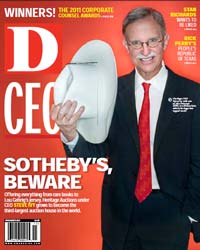 Sotheby's, beware! Offering everything from rare books to Lou Gehrig's jersey, Heritage Auctions under CEO Steve Ivy grows to become the third-largest auction house in the world.
For years the nation's top currency and coin house, Dallas-based Heritage Auctions has used its founders' entrepreneurial prowess to diversify and flourish in recent yearspartly at the expense of industry giants Sotheby's and Christie's.
When actor Nicolas Cage decided to unload most of his vast comic book collection in 2002, he used Heritage Auctions in Dallas to execute the $1.68 million sale. In Orlando last year, a 1913 U.S. Liberty head nickel previously owned by Egypt's King Farouk and before that, Los Angeles Lakers owner Jerry Buss (who sold it years earlier for a paltry $200,000), was sold at a Heritage auction for $3.7 million to an East Coast collector.
Read the full article here. (Requires the free Adobe PDF Reader.)